Kamerahus til Nikon D700
SUBAL, the renowned manufacturer of high quality aluminium underwater housings, again proves to be among the first to respond to important new releases.
Just a few weeks after the introduction of the new Nikon D700 the SUBAL ND700 housing for the full format camera is now available.
Like SUBAL's entire range of housings the ND700 comes equipped with two flash connectors, handles on either side, optical leakage alarm, lens uncoupling, and the reliable SUBAL "Quick Lock" locking mechanism. Access to all camera functions is easy via ergonomically placed controls.
SUBAL's GS180 or WS45 are available as an option.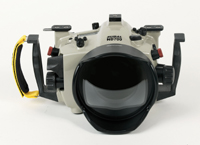 Klikk på linken på toppen
for å lese mer om nyheten
på hjemmesidene til Subal.